Great thanks to our friends who donated this "

Tuku Tuku

" many, many years ago!
It has been a great help for Bivamuntuyo.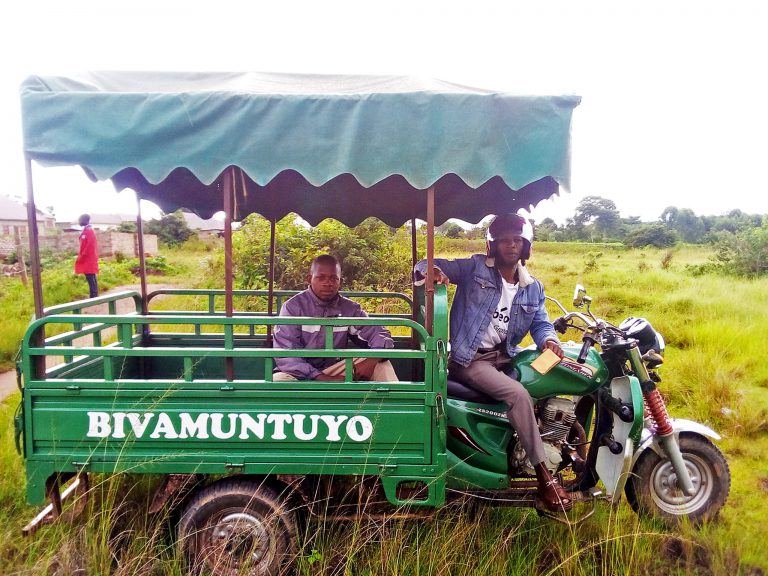 It saved lives serving as emergency transport during curfew hours in the first lock down. Carrying many woman in labor to a hospital for a safe delivery, children with high fever, burning wounds, severe malaria and malnutrition and HIV positive people who were not able reach health centersto receive treatment and medication.
Collecting bags of peanuts for our peanut butter factory, carrying nutritious foods to patients at the nutrition unit, delivering products to customers, transporting firewood, bags full of animal foods and once in a while some passengers.

This multifunctional vehicle has really contributed so much to the projects.
The number of covid-19 cases in Uganda is rising rapidly and we are stuck in a second lockdown. Fortunately the work on the farm and at the nutrition unit continues. These days we receive many severely malnourished children and we know there are many more who can't reach the hospital due to the transport restrictions. We immediately want to start offering the emergency services again to the community members.
There is just one tiny problem

, our beloved motorcycle pick-up fondly called "
Tuku Tuku
" became too old and unreliable to transport patients. With bad road conditions it is amazing that "

Tuku Tuku

" lasted this long being used daily moving up and down along dirt roads. So we had to say goodbye to "

Tuku Tuku

" who was costing lots to maintain and causing issues when breaking down on the road.
With all other means of transport closed due to strict COVID-19 restrictions we miss "

Tuku Tuku

" more than ever and need to find a "

Tuku Tuku 2

" so we can maintain work and jobs and serve the community we love.
"Tuku Tuku 2" is now desperately needed and you can help us make that wish come true!



A new "

Tuku Tuku

" costs approx. 2500 euros
Donations from other countries then the Netherlands can be made to:

IBAN: NL62 INGB 0006 1565 61
BIC: INGBNL2A
Account name: K.Vogel
Adress: P.O. Box 48, KYOTERA
Uganda
OR



You can make a donation to the "

Kulabigwo foundation"

.


Bivamuntuyo

is connected to this Dutch foundation.
"Kulabigwo foundation" has an

ANBI

status. This means that your donation is tax deductible whether you donate as a private individual or on behalf of your company.
We kindly ask you to transfer donations

higher than 200 euros

to the "

Kulabigwo foundation

". You will then receive proof of your donation. Don't forget to mention the donation is for

BIVAMUNTUYO.




Thank you

.
Donate to Kulabigwo foundation:

IBAN: NL09 INGB 0001 0393 10
BIC: INGBNL2A
In the name of: "Stichting Kulabigwo", Zwolle
Address: Fluessen 76
Zip code: 8032 ML
Town: Zwolle
Country: The Netherlands
Subject: Donation for Bivamuntuyo